Issue Type Field Missing in Create Jira Form
Category

: Create, Error Messages

Article Number

: 13

Publish Date

:

12 Oct, 2022
Objective
To understand & resolve the below-mentioned issue which occurs in the Salesforce environment while creating a new Jira record from Salesforce.
Error message: "issuetype=Specify an issue type"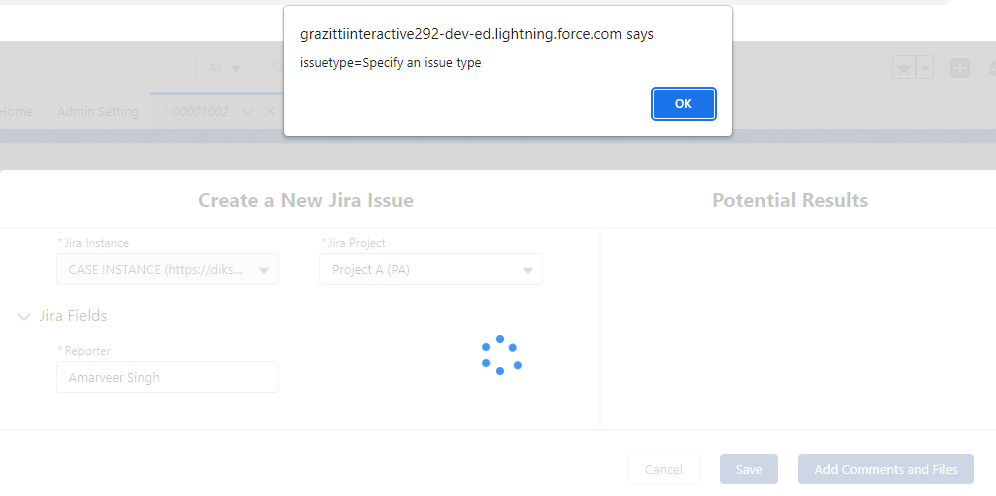 Resolution
Log in to your Salesforce Instance as an administrator.

From 'Setup', enter 'Custom settings' in the 'Quick Find' box.

Open 'Custom Settings' and look for 'Sinergify Trigger'.
Under 'App Launcher', Search 'Sinergify' and Select 'Admin Setting' Tab.

Now reconfigure the affected Projects and respective Field mapping by enabling the 'Sync' or 'Write' (or both as per requirements) for Projects and then map the required fields under Field Configuration. Save the changes.

Additionally, perform a 'Sync Configuration' by going to Field Configuration> Sync Configuration.

This should resolve the issue as all the required triggers are now enabled and also the default fields for each respective project(s) will now be created in the backend.

If you are still unable to resolve the issue with this article or are facing any issues while following the article, please contact our support team at [email protected] or raise a ticket at www.sinergify.com/support-portal.