Managing licenses for Sinergify
Category

: General

Article Number

: 17

Publish Date

:

15 Dec, 2022
Objective
The purpose of this Article is to explain how to assign the Sinergify license to the Salesforce users once the managed package is installed in your Salesforce org via AppExchange.
Steps to assign Sinergify licenses to your Salesforce users :
From Salesforce Setup, enter Installed Packages in the Quick Find box, then select Installed Packages.

Look for Sinergify from Publisher Grazitti Interactive.
Note: Manage Licenses option can be grayed out or missing in certain instances like older version of package is installed or if you are using an unlimited site-wide or org-wide plan which has no limit on the users. Contact Sinergify Support to enable this option if you have purchased limited licenses.
Click Add. Select the user(s) who should be using the Sinergify package and its related Objects, Components etc. The package license is assigned to the user.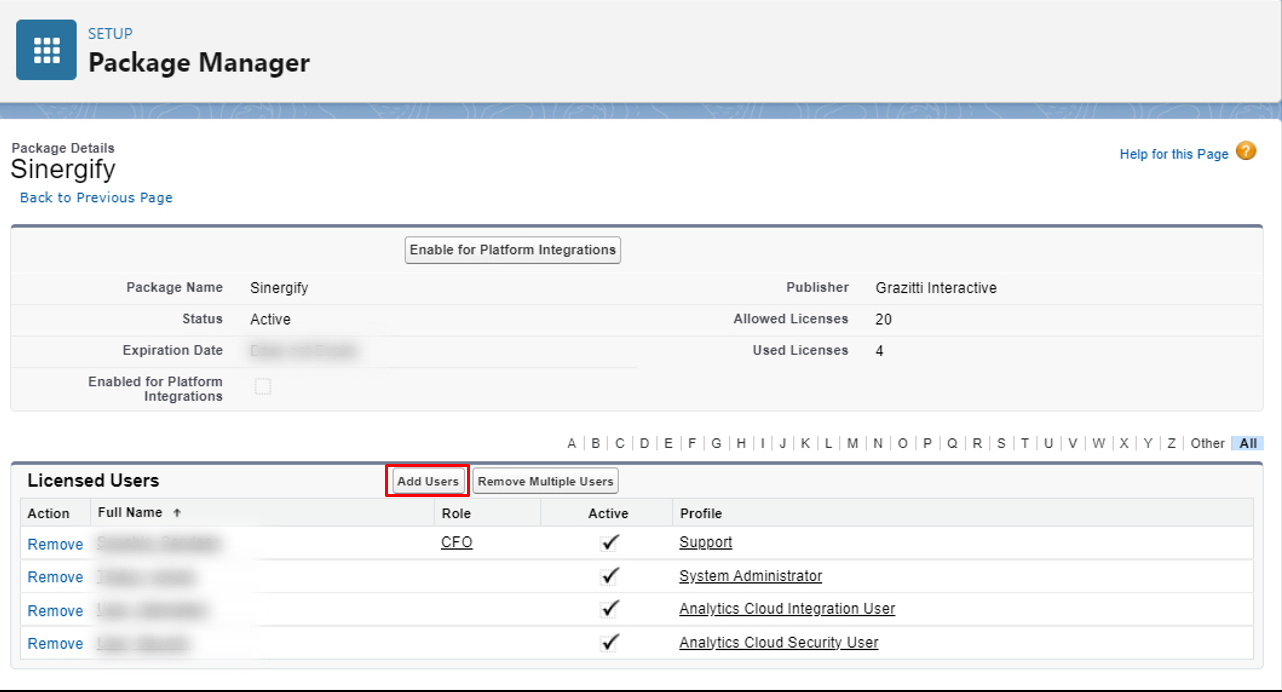 Important Note:
Any Salesforce user who will be using Sinergify and its components needs a license.  It can be a view only or edit or modify access. This user may or may not be the record owner (e.g. Case Owners etc). If they are accessing Jira information via Sinergify, a license is required.
For example: If you have created a custom report/dashboard within Salesforce that includes a subset of Jira Object like Jira Status, Jira Issue Key, then only the licensed users will be able to access the report or Dashboard correctly. If you face any such issues from a management point of view, kindly contact [email protected] to upgrade your license type.